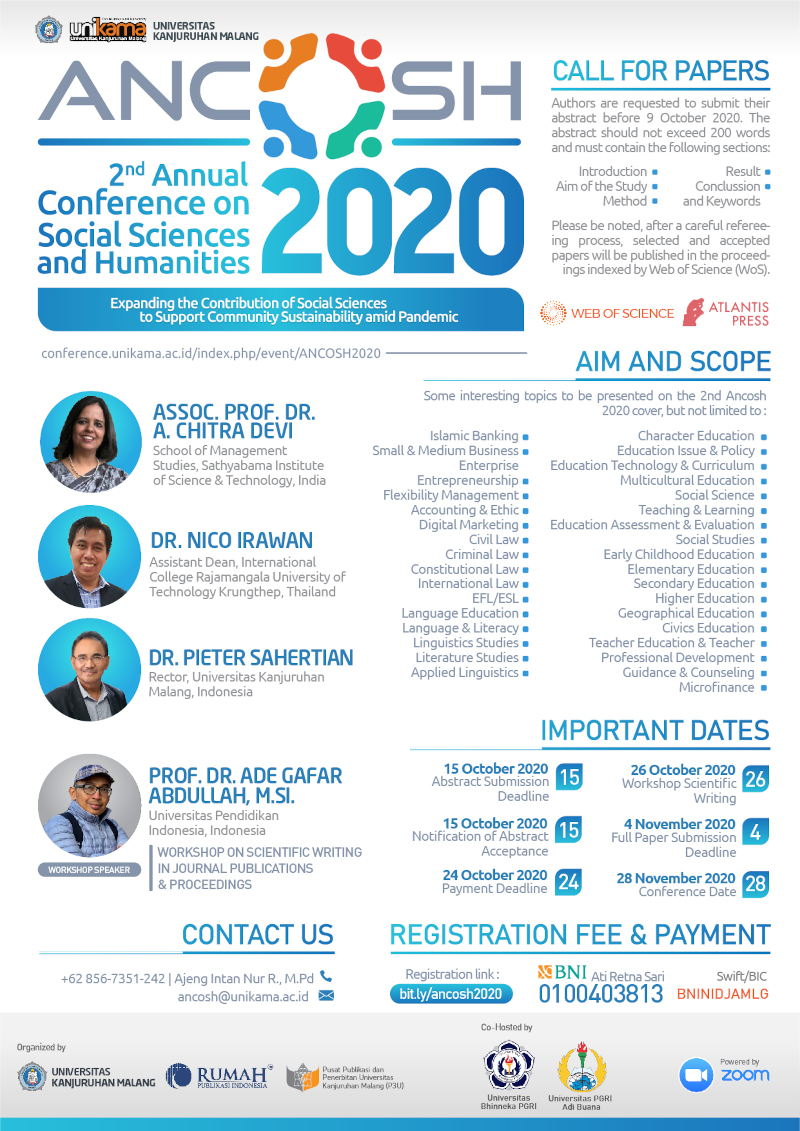 2nd ANCOSH 2020 Universitas Kanjuruhan Malang
BACKGROUND
Responding to the current issue of global pandemic, Universitas Kanjuruhan Malang invites you on the 2nd Annual Conference on Social Sciences and Humanities (ANCOSH) 2020 that will be conducted on November 28, 2020. This international conference is a global forum for academics, professionals, university students, and researchers to present and discuss the emerging ideas and trends in social sciences to support community sustainability amid pandemic. It is expected that this forum will provide the opportunity for intellectual propositions and academic discussions as a contribution for humanity empowerment.
AIM AND SCOPE
2nd Ancosh 2020 invites academics, professionals, lecturers and students, scientists and researchers to present and discuss their research papers. Some interesting topics to be presented on the 2nd Ancosh 2020 cover, but not limited to:
| | |
| --- | --- |
| Character Education.Education Issue & Policy.Education Technology & Curriculum.Multicultural Education.Social Science.Teaching & Learning.Education Assessment & Evaluation.Social Studies.Early Childhood Education.Elementary Education.Secondary Education.Higher Education.Geographical Education.Civics Education.Teacher Education & Teacher Professional Development.Guidance & Counseling. | Microfinance.Islamic Banking.Small & Medium Business Enterprise.Entrepreneurship.Flexibility Management.Accounting & Ethic.Digital Marketing.Civil Law.Criminal Law.Constitutional Law.International Law.EFL/ESL.Language Education.Language & Literacy.Linguistics Studies.Literature Studies.Applied Linguistics. |
CALL FOR PAPERS
Authors are requested to submit their abstract before 9 October 2020. The abstract should not exceed 200 words and must contain the following sections:
Introduction
Aim of the Study
Method
Result
Conclussion and Keywords
Please be noted, after a careful refereeing process, selected and accepted papers will be published in the proceedings Atlantis Press.